Anvil

journal of theology and mission
Rivers in the desert: the story of African Christianity in Britain
by Sheila Akomiah-Conteh
---
Do not remember the former things, nor consider the things of old. Behold, I will do a new thing, now it shall spring forth; shall you not know it? I will even make a road in the wilderness and rivers in the desert.

Isa. 43:18–19, KJV
Introduction
It is undeniable that the landscape of Christianity in Britain has changed drastically in the last 60 years. The predominant drivers of these changes have been secularisation and migration. British Christianity has seen steep numerical decline because of secularisation, and great diversity and some numerical growth at the same time, as a result of international migration.
The disintegration of Christendom from the twentieth century can be seen in the drastic decline in the power and popularity of the church. This "social process of religion losing power, popularity and plausibility" is what is widely referred to as secularisation.1 While various commentators may disagree about the timing, causes and measurement of secularisation, it is generally acknowledged and accepted as the most prominent cause of the demise of Christianity in Britain in the post- Christendom era.2
Britain's era of Christendom with its widespread social appeal and church attendance was premised on certain structural and ideological social conditions that are no longer in place. We now live in a radically transformed sociocultural and political era and must therefore begin to consider the available agencies of our age that promote or can potentially restimulate Christian growth. The former archetype of Christian Britain may be slipping away, but as Isaiah 43:18–19 highlights, to comprehend and embrace the new thing God is doing, it is sometimes necessary to let go of the past and forget the former things. Such renewal and refocusing of the mind can lead to clarity and appreciation of the new move of God. In this regard, Stuart Murray notes, in Church After Christendom, "Christendom is fading. We may grieve or celebrate its passing, but we cannot revive, restore or recover it."3 A paradigm shift regarding the extant and future British church is already underway. It is time to stop talking about historic decline and start thinking about what is new in contemporary British Christianity.
In this article, I trace the development of one of the most significant contributors to numerical growth and ethnic and theological diversity to British Christianity in recent times. I highlight some of the distinct contributions and ongoing impact of African and other Black Majority Churches on Christianity in contemporary Britain.
The phenomenon of Black church growth in Britain
The prospects for the church in Britain have been defined by an enduring narrative of decline for many decades but something new is happening. The presence and influence of old and established institutions is undoubtedly waning, but many new and innovative groups are emerging. New forms of Christian growth are occurring all over the country amid the general climate of decline. These pockets of growth are like ways in the wilderness and rivers in the desert. One of the most significant contributors to these pockets of church growth in contemporary Britain is immigration, with a consequent rise of new churches, especially those from ethnic minority backgrounds.
The Oxford English Dictionary defines ethnic minority as "a group within a community which has different national or cultural traditions from the main population".4 This includes Black and Minority Ethnic (BME) and "Other White" communities. According to the Institute of Race Relations, BME is the terminology normally used in the UK to describe all people of non-white descent.5 The term "Other White", on the other hand, is a classification of ethnicity in the United Kingdom, referring to persons who consider themselves "white" but are neither British nor Irish.6 There has been an explosion of BME and Other White churches in all the major regions of the UK in the last 40 years.7
One of the most recent regional investigations into the phenomenon of new churches was undertaken in Scotland in 2019.8 Here, it was discovered that 65 per cent of all new churches planted in the city of Glasgow in the years 2000–16 were ethnic minority or BME churches. In the BME church category, those that are led and primarily attended by Black or Black British Christians of Caribbean and sub-Saharan African heritage are often known as Black Majority Churches (BMCs). Some Black church leaders resent this designation due to the fact that it is not they themselves who have called their churches "Black churches" or their version of the Christian faith "Black Christianity". These names have been created and imposed to a large extent, by white commentators and observers. Black church leaders feel therefore that Black people should not assume that the intention behind these names is positive or favourable.9 Although this assigned description is controversial and has been widely challenged by several Black church leaders and advocates in the past and present,10 I will maintain it for the sake of clarity, and to serve as the provisional starting point for our discussion.
BMCs are currently some of the fastest growing churches in Britain. They also have some of the biggest congregations in many urban centres in the UK. For instance, the 2012 London church census reported a 16 per cent increase in church attendance in the city since the last count in 2005. This growth was mainly attributed to the proliferation of new BMCs in the capital. BMCs were responsible for 28 per cent of overall church attendance in London, and nearly half (48 per cent) of all church attendance in inner London. Overall, it is estimated that one in five (19 per cent) Black Londoners go to church every week.11
Another detailed study in the London borough of Southwark found that at least 240 new BMC congregations had been founded in the borough.12 In her report in The Guardian in 2016, Harriet Sherwood highlighted that the Redeemed Christian Church of God (RCCG), a West African-originated denomination, is now thought to be the fastest growing church in Britain, with over 700 branches nationwide.13 In the same report, British church statistician Dr Peter Brierley also observed that RCCG has now overtaken longer-established Pentecostal churches in the UK such as the Assemblies of God and Elim.14
In the Scottish region, new research shows that 79 per cent of the new ethnic minority churches founded in the city of Glasgow in 2000–16 were African Churches.15 Modern-day discussions of mission and Christianity in the UK will therefore be incomplete, unbalanced and even misleading without the mention, inclusion and acknowledgement of the growing presence, prominence and contribution of new churches, and Black Majority Churches in particular, to the contemporary historiography of British Christianity.
Historical development and origins
The rise of Black Majority Christianity in Britain is usually traced to the late 1940s mass migration of Caribbean peoples to the UK and, later, the arrival of other Black Christians from various countries in Africa. The rejection and difficulties faced by these new migrants as they sought to integrate themselves into the local culture and into existing Christian congregations subsequently resulted in the foundation of various independent, Black-led churches. These new groups also arose to serve the distinctive spiritual and social needs of the new Black Christians, hitherto unfulfilled by the existing British churches. The inability or unwillingness of British churches to meet the distinct spiritual and social needs of Black migrant Christian communities remains one of the core reasons for the continued existence and massive growth of Black Majority Christianity in contemporary Britain.
The origins of Black Majority Churches in Britain, however, date further back to the beginning of the twentieth century when one of the first Pentecostal churches in Britain was established by an African businessman in Peckham in 1906.16 Thomas Kwame Brem-Wilson was born into an affluent family of merchants in Dixcove, in Ghana, West Africa, in 1855. He served as the schoolmaster of a missionary school before his migration to Britain in 1901. The Revd Brem-Wilson was one of the first people to be baptised in the Holy Spirit during the inception of Pentecostalism in Britain.17 In response to the Pentecostal revival, he founded the first Black-led Pentecostal church in Britain, then known as Sumner Road Chapel, in 1906, leading it until his death in 1929.
After the death of Brem-Wilson, the church's leadership dynamics changed as several white ministers took over its management because of its affiliation to the Apostolic Church and Assemblies of God denominations. This may have blurred the historical origins of the church as the first Black-led Pentecostal Church in Britain. Now rebranded as Sureway International Christian Ministries, the church is still active and is now led by the Revd Dr Steve Armah, another Ghanaian missionary.
Unlike its successors, therefore, the first Black church in Britain did not develop as a response to social struggle but primarily from a missiological initiative. That is not to say that the development of the later Black churches was not missional, but it highlights the primary impetus behind the rise of the Black churches in the UK at different points in history. Additionally, although it was colloquially referred to as the "Black man's church" in those days (mainly because it was Black-led), Brem- Wilson's church was a very multicultural church with a diverse ethnic mix.18 Apart from Brem-Wilson, the academic Roswith Gerloff also notes that there were traces of indigenous African Christian faith in Hornsey in the 1930s.19
The re-emergence of Black Majority Churches in Britain from the Windrush era in the late 1940s was therefore a radical expansion of the Black church movement on a much larger scale and under a different set of circumstances. As previously highlighted, this development was largely the result of Black Christians feeling alienated and marginalised in British society, both secular and religious. It was also in response to the desire to maintain a sense of cultural identity and support in an unfamiliar world. BMCs served and still serve as places of refuge for many new migrants to Britain.
In summary, two main types of Black churches have developed in Britain: those established through purely (largely?) missional imperatives in the 1900s like Brem- Wilson's church, where issues like racism were not an underlying cause for their foundation, and those born out of social struggle, identity and need, as well as mission, from the 1940s. The latter include those formed through migration from the Caribbean and the many Black African churches that formed from the 1980s onwards. In more recent times, several new, independent and mainly African-led churches have been founded here in Britain with distinctly missional agendas, such as "reverse mission", in a bid to re-Christianise Britain. However, the main driver of all of these movements has been migration.
The significance of Black Majority Churches in Britain
Having considered the origins of BMCs in Britain and the migratory trends in their formation, it is important to ask to what extent and in what ways they are transforming the landscape of Christianity in Britain.
The earnestness of Black Christianity's missionary outreach both to Black people and to others is an area of British Christian life not often well acknowledged but one that has been a great success story. The religious associations of minority groups are usually treated as marginal and as having little impact on the religious establishment of the dominant society,20 but this has not been the case with Black Christianity in Britain. Black Caribbean and African Christian migration has brought many dynamic, unique and enduring changes to British Christian life and British Society in general. I will highlight a few of these distinctive qualities and contributions.
Resacralising sacred places
The physicality of churches and chapels play a powerful role in popular perceptions of religion in Britain. As such, empty churches are frequently cited by critics and the media as evidence of large-scale religious decline in the United Kingdom. The conversion of places of worship into places of secular use such as houses, offices and entertainment venues is now a common occurrence in Britain, but some new churches are reversing this trend. One of the most significant but rarely known contributions of Black Majority Churches to Britain's Christian heritage is the acquisition of historic and closed or out-of-use church buildings. Because they are newcomers, one of the challenges frequently faced by new churches in Britain is obtaining suitable places for worship. Many resort to renting public spaces or sharing church buildings with other existing congregations. Increasingly, however, many BMCs in particular are procuring spaces for themselves on the Christian landscape by buying church buildings from dwindling, historic congregations. Although creating their own worship space is the foremost motivation, another key reason for this is to prevent historic church buildings from being lost or sold for secular uses.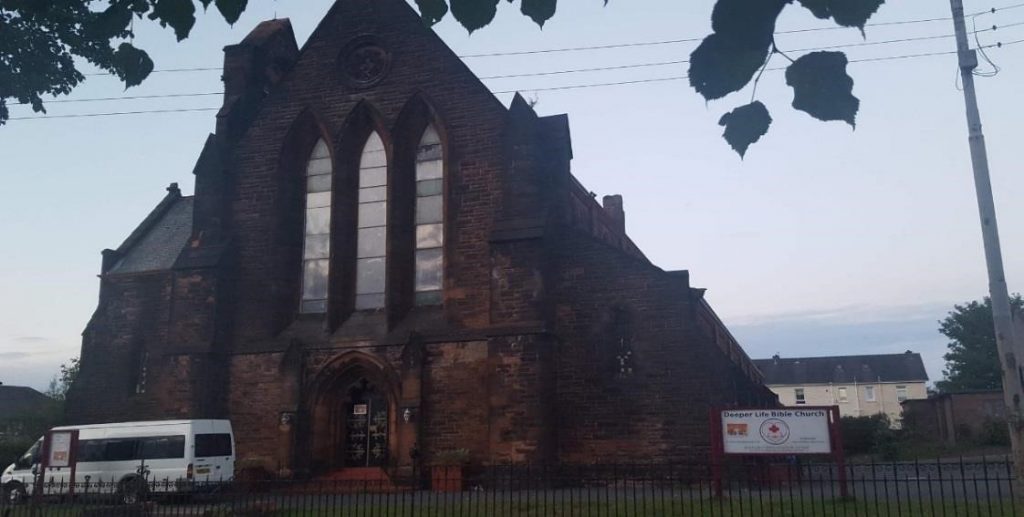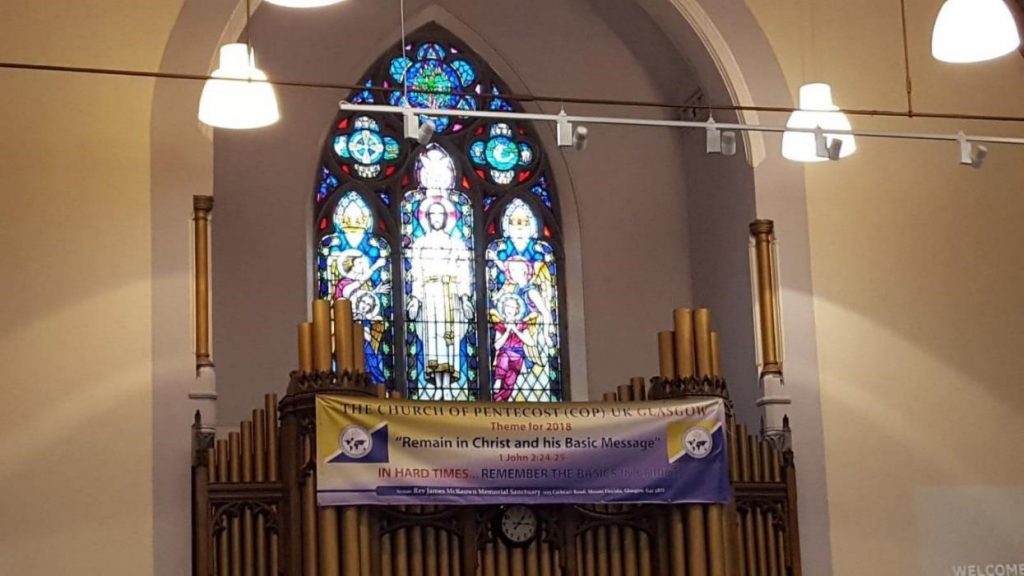 Therefore, in their bid to create spaces for themselves, BMCs are also helping to preserve the heritage of British Christianity. There are numerous examples of this in parts of the country where BMCs have a strong presence. Here in Scotland, almost all the major West African Pentecostal Church denominations, such as the Church of Pentecost, Deeper Christian Life Ministry, the Redeemed Christian Church of God and Mountain of Fire and Miracles Ministries, own and worship in buildings acquired from historic church groups. The Church of Pentecost, a denomination that has its origins in Ghana and over 20,000 members in the UK, raises annual funds ("Project Offerings") to support the acquisition or refurbishment of such buildings for worship. In this regard, BMCs are resacralising or restoring sacred spaces in Britain as places of divine worship.
Furthermore, by buying historic church buildings, BMCs are establishing themselves as permanent members of the British Christian community. They are sending out the message that they exist for serious mission and are here to stay. They are also integrating and establishing themselves as authentic members of local communities. The designation of "immigrant" churches commonly assigned to BMCs and other ethnic minority churches in Britain can give the erroneous impression that they are merely exclusive cultural groups, not authentically British and do not do authentic mission. An overwhelming majority of the members of these churches are, however, legal British citizens, including their second-generation members, many of whom are British-born. In this vein, the difficulties, harshness and rejections faced by the Windrush Christian generation may not be as acute in this era. Nonetheless, contemporary Black British Christians still struggle for acceptance as authentic members of the British Christian community and, most importantly, as authentic partners in mission. Hence, the Swiss theologian Hollenweger wrote, "Christians in Britain prayed for many years for revival, and when it came they did not recognise it because it was black."21
One of the criticisms often levelled against BMCs in Britain is that they have not been successful in attracting or proselytising white populations. Their congregations are usually Black and may also be mono-national. Admittedly, many BMCs have had little success in this area although it is their ultimate missional goal to "win" white British souls for Christ – and there are many reasons for this deficiency. Nevertheless, it is of equal importance to note that they are still reaching and meeting the spiritual and social needs of a distinct and authentic British Christian community – one that the traditional British churches have also so far been wildly unsuccessful in attracting or catering for. Therefore, a Congolese church discipling and reaching out to other British Congolese Christians and non-Christians alike in their community is still doing mission in Britain. Some critics shun the growth and success of BMCs in Britain with comments such as "they are only reaching their own people" – as if mission in Britain is only valid if it is targeted at white Britons. God's mission is to everyone, everywhere, and people are of equal worth in terms of salvation, regardless of where they are "fished". The missional accomplishments of BMCs in Britain therefore deserve equal recognition and celebration.
Sacralising secular spaces
The increasing presence and activity of BMCs is making Christianity more physically visible in contemporary British society. Latest figures from the city of London show that Black Christians attend church more than any other group on a given Sunday.22 Although they make up just 14 per cent of the population, they account for at least 48 per cent of all church attendance in the city. It is not an uncommon sight to see smartly dressed African families or individuals commuting to church on a Sunday in many urban cities in the UK.
In his project Being Built Together, Andrew Rogers of Roehampton University counted a minimum of 240 BMCs in Southwark, South London. These churches were predominantly African majority, especially West African. The area is now believed to have the greatest concentration of African Christianity outside of Africa, not only in Europe but in the world. Signs of this dramatic development are clearly evident walking down the Old Kent Road, a major artery of the borough, where one can locate at least 25 African churches in just a 1.5-mile radius. Black Christianity is therefore not only making Christianity more visible in Britain but also transforming the geographies of local communities.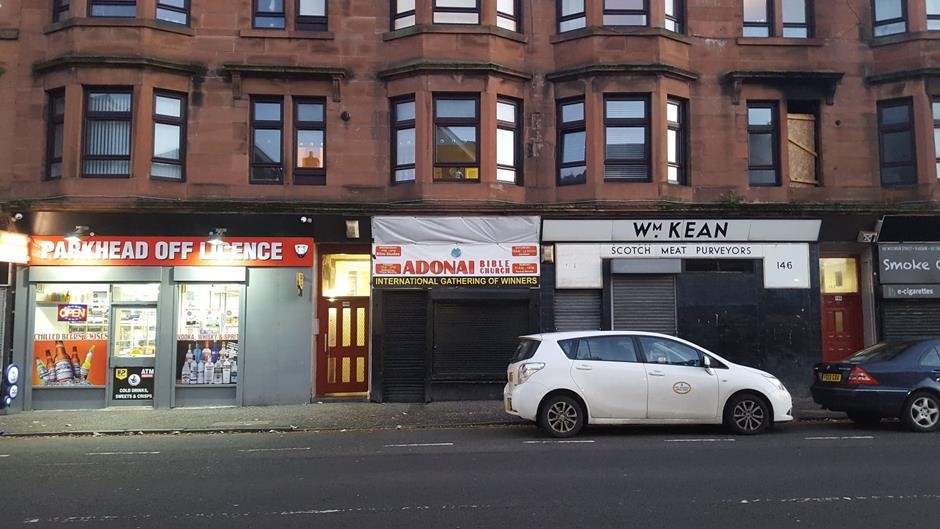 BMCs in Britain also hold church services in some of the most unlikely locations. Due to space constraints, BMCs will worship anywhere they can find accommodation. This may include public or community halls, schools and even hotels. African churches are particularly adept at adapting unusual spaces for worship purposes. In my research on new churches in Glasgow, I came across several African churches that worshipped in unusual places such as converted warehouses, industrial offices, transformed garages, adapted residential homes and in shops on the high street. The most interesting example I found of this phenomenon was a Nigerian church that worshipped in a converted shop sandwiched between a butcher's and an off-licence on a busy street. Members of local communities are therefore encountering Christian worship in places where they least expect it. In this way, BMCs are creating a visible Christian presence (sacralising secular spaces) in the community.
The lack of suitable premises to use as places of worship also gives BMCs high mobility. It is not unlikely for an African church to worship on multiple sites before finally settling down in a permanent location. This is also one of the key reasons why they are easily missed and consequently, undercounted in large-scale surveys. Multiple and at times no known addresses can make them hard to locate and verify. Many BMCs, especially less established first-generation ones, may also have minimal official presence on the internet or in other parachurch statistics. Such undercounting is therefore difficult to avoid without researchers taking to the streets on a Sunday and conducting small-scale, grass root-level research. The high mobility of BMCs similarly promotes the visibility of Christianity. However, it may also hinder churches from building strong ties and lasting relationships in local communities because they are not always there for long.
In conclusion, BMCs are not detached groups or "holy huddles" isolated from the rest of society. They are interactive, dynamic and recognisable communities in many societies. Their growing presence and activities in the public arena are also helping to make visible the continued presence and practice of Christianity in post-narrative of regression and the disappearance of faith communities from public life.
Revitalising British Christianity
One unique feature of BMC Christianity is its vibrancy and liveliness. African Christian expression is particularly bold, bright and loud. Church meetings are happy gatherings, the dress code is bold and beautiful, praise and worship is a passionate whole-body exercise, preaching is interactive and dynamic, offering is generous, and prayer is serious and involves all. Almost all the duties performed in African churches are also voluntary including, at times, the ministry of pastors and other key leaders. For example, more than 90 per cent of the African churches investigated in Glasgow during my research had pastors who were also full-time workers, ranging from nurses to professional bankers.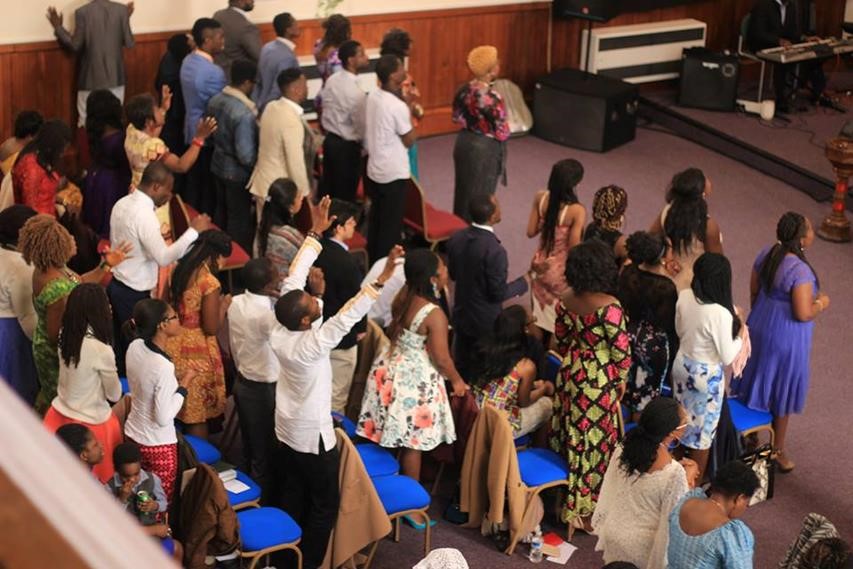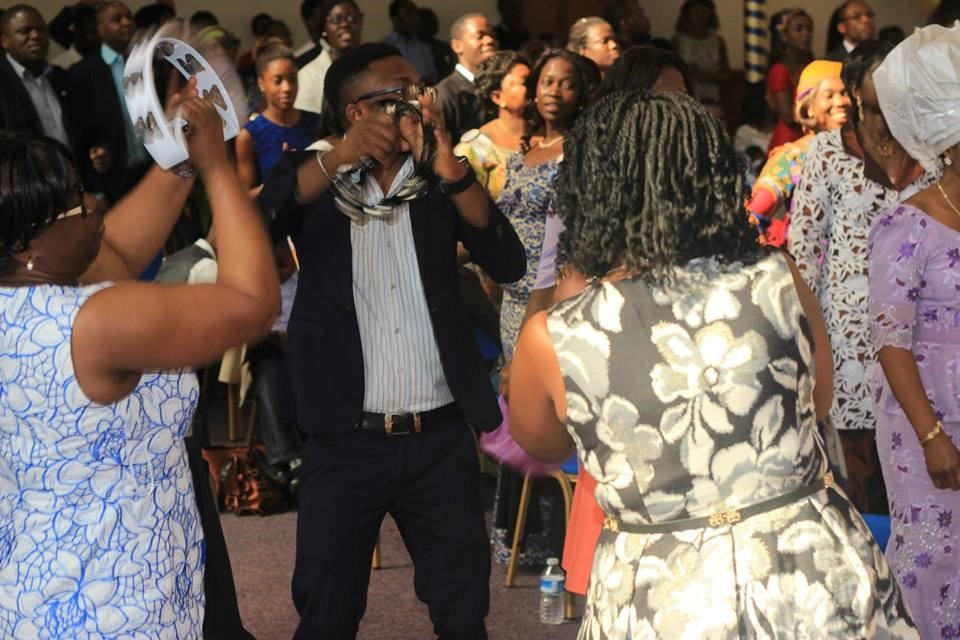 The liveliness of African churches has sometimes earned them the description "happy clappy churches", although this is at times used in a derogatory sense. Nonetheless, African Christian worship services are gatherings of upliftment, inspiration and joy. Their members do not go to church just to fulfil some burdensome religious duty. They choose to go because they find church fellowship and theology practically useful and enjoyable. This enthusiasm and general excitement about faith brings vibrancy to local communities and also has the potential to invigorate other churches and Christians. For instance, the minister of a neighbouring church used to attend the service at my church (an African Pentecostal church) every Sunday morning particularly during praise and worship time because it made him feel spiritually and physically energised. He then hoped to transmit this energy into his own church service and to his congregation.
The vibrancy and enthusiasm of African churches is further conveyed into evangelism and missional activity. African Christians in particular have a natural missional imperative. For most of them, evangelism is second nature. In fact, many African churches in the diaspora are started by ordinary individuals who feel a sense of duty to share the gospel wherever they are. The evangelistic strategies employed by African churches are therefore bold, confident and people-centred. Traditional styles such as tract distribution, door-to-door, open-air street evangelism and personal interaction are commonly used.
Evangelism is also usually targeted at white British people. This is where a mismatch between methodology and goal may be affecting success. The traditional evangelistic approaches used by most African churches are tried and tested methods that are usually very successful in the African context – but not so much in a postmodern, post-Christian, privacy-cherishing society like contemporary Britain. African churches therefore need to learn, create and adapt appropriate evangelistic approaches for reaching people in the British context.
Diversifying British theology
BMCs have brought not only cultural but also theological diversity to British Christianity. Specifically, they have brought Pentecostal theology to the forefront of contemporary British Christianity. The majority of new African churches in Britain are Pentecostal churches. Consequently, Britain is now home to hundreds more Pentecostal denominations and thousands more Pentecostal churches than it had 50 years ago. The 2016 Scottish Church Census also found that the number of Pentecostals in Scotland has tripled since 1984, growing at a rate of 3.8 per cent per annum.23
Pentecostal denominations are also leading church planting across the UK. The RCCG, a Pentecostal denomination from Nigeria, is now the fastest-growing church in Britain. Started in Britain in 1988, they have now planted around 760 churches all over the country. The traditional British church denominations are in general planting less.
In Scotland, only 6 per cent of the 110 new churches started in Glasgow in 2000–16 were planted by the established denominations.24 Specifically, seven of the new churches belonged to four established or historic denominations in Scotland. These were the Church of Scotland, the Free Church of Scotland, the Reformed Presbyterian Church and the Baptist Union of Scotland. The Church of Scotland established one new congregation in the Whiteinch area of Glasgow in 2000. It was the only new church plant by the denomination in 16 years. Pentecostalism is generally the fastest-growing expression of Christianity globally and particularly in Africa. British Christianity must generally embrace more closely and learn from the attributes that make Pentecostalism such a successful global trend. African Pentecostalism and African Christianity in general have many practical and theological lessons to teach the British church about faith and about living in faith in a post-Christian context. The concept of embodied faith – faith that is tangible, practised and worked out through our lived experiences – will be one such lesson. Many Africans understand faith and religion not as merely abstract but as lived experience. Religion must therefore have real-life implications like meeting real needs – be it rain during a drought or healing when one is sick. Such an outlook breeds constant expectancy, excitement, reverence for God and vibrant faith.
Conclusion
The proliferation of Black Majority Churches, and African churches in particular, is undoubtedly one of the most notable developments in contemporary British Christian history. Whereas all the older and traditional Christian denominations in Britain are in serious decline, there is little evidence that BMCs are slowing in their growth. The concentrations of BMCs in British urban centres may well have an impact beyond their numbers in terms of stimulating the wider church. Their continued growth also points to a rather more nuanced picture of church growth and decline in the UK, where urban religious landscapes have now changed dramatically over recent decades due to rapid BMC expansion. No space is out of bounds for the Black Christianity movement in Britain. Like rivers in a desert, African churches in Britain continue to be key sources of hope for the future of British Christianity, and refreshment for dry and thirsty souls.
---
About the author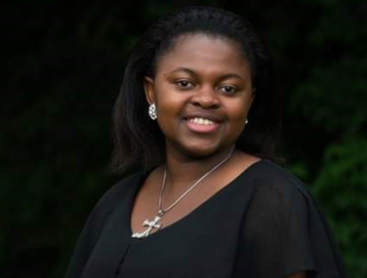 Sheila Akomiah-Conteh is a Ghanaian scholar based in Scotland. Her doctorate thesis explored the changing landscape of the church in Scotland with a specific focus on new and emerging churches in the city of Glasgow. She is a researcher and tutor in religious studies and philosophy.
More from this issue
Notes
1 Steve Bruce, "The Secularisation of Scotland," International Journal for the Study of the Christian Church 14, no. 2 (2014): 193, doi.org/10.1080/1474225X.2014.931183.
2 Callum G. Brown, The Death of Christian Britain: Understanding Secularisation 1800–2000 (London and New York: Routledge, 2001); Steve Bruce, God is Dead: Secularization in the West (Oxford: Blackwell, 2002).
3 Stuart Murray, Church After Christendom (Milton Keynes: Paternoster, 2012), 7.
4 "Meaning of ethnic minority in English," Oxford Dictionaries, accessed 6 August 2021, https://en.oxforddictionaries.com/definition/ethnic_minority.
5 "Definitions," Institute of Race Relations, accessed 6 August 2021, http://www.irr.org.uk/research/statistics/definitions/.
6 Office for National Statistics, "Ethnic group, national identity and religion: Measuring equality: A guide for the collection and classification of ethnic group, national identity and religion data in the UK" (London: Office for National Statistics, 2013): 22.
7 David Goodhew, ed., Church Growth in Britain: 1980 to the Present (Farnham: Ashgate, 2012).
8 Sheila Akomiah-Conteh, "The changing landscape of the church in post-Christendom Britain: new churches in Glasgow, 2000–2016" (PhD diss., University of Aberdeen, 2019).
9 Patrick Kalilombe, "Black Christianity in Britain," Ethnic and Racial Studies 20, no. 2 (1997): 306–24, doi.org/10.1080/01419870.1997.9993963.
10 Joel Edwards, ed., 'Let's Praise Him Again': An African–Caribbean Perspective on Worship (Eastbourne: Kingsway Publications, 1992), 12–35.
11 Peter Brierley, Capital Growth: What the 2012 London Church Census Reveals (London: ADBC Publishers, 2014).
12 Andrew Rogers, "Being Built Together: A Story of New Black Majority Churches in the London Borough of Southwark" (University of Roehampton, 2013), https://www.roehampton.ac.uk/globalassets/documents/humanities/being20built20togethersb203-7-13.pdf.
13 Harriet Sherwood, "Pentecostal church looks to white Britons to boost congregations," The Guardian 30 December 2016, accessed 10 August 2021, https://www.theguardian.com/world/2016/dec/30/pentecostal-church-looks-to-white-britons-to-boost-congregations.
14 Ibid.
15 Akomiah-Conteh, "The changing landscape of the church in post-Christendom Britain".
16 Babatunde Adedibu, "Brem-Wilson, Thomas Kawa," Dictionary of African Christian Biography (2018), accessed 16 August 2021, https://dacb.org/stories/ghana/brem-wilson/.
17 Thomas Ball Barratt, When the Fire Fell: An Outline of My Life (Oslo: Alfons Hansen & Sønner), 1927), 150.
18 Adedibu, "Brem-Wilson".
19 Roswith I. H. Gerloff, A Plea for British Black Theologies: The Black Church Movement in Britain in its transatlantic cultural and theological Interaction with special reference to the Pentecostal Oneness (Apostolic) and Sabbatarian Movements (Frankfurt: Peter Lang., 1992), 44.
20 Steve Bruce, "Secularization and Church Growth in the United Kingdom," Journal of Religion in Europe 6, no. 3 (2013): 277.
21 Walter J. Hollenweger, "Foreword" to Gerloff, A Plea for British Black Theologies, ix.
22 Peter Brierley, Capital Growth.
23 Peter Brierley, "The Fourth Scottish Church Census: The Results Unveiled" (Brierley Consultancy: 2017): 20, https://www.dropbox.com/s/4tb7ehkxtt6yjwv/The%20Fourth%20Scottish%20Church%20Census%202016.pdf?dl=0
24 Akomiah-Conteh, "The changing landscape of the church in post-Christendom Britain".