Under pressure in Argentina
In a fast-changing world, one Wichí family talks about the pressure young people face, and the secret of staying on the right path
We have had a Wichí family staying with us in one of the houses at the mission. It has been lovely to have them as part of our small community. 
I was telling Enzo, the father, how we had recently met one of our local thieves (yes we have had a few in our time!), who is a drug addict but longs to be released. We have become friends after he helped us to retrieve the stolen goods. 
Enzo and other Wichí friends have helped us understand the pressure that the Wichí young people are put under. It's all too easy to blame the parents for their poor parenting, when they have not had a positive upbringing either. Enzo said that some parents teach them to steal from an early age, from individuals and institutions, and it's not unusual to see young children glue and petrol sniffing, wrecking their young bodies and minds even before they are in their teens. 
Enzo explained what happened to him:
He was in Barrio Obrero with a group of friends, when a Paraguayan arrrived on his motorbike. He offered the group a life with money, motorbike, house etc. Easy money – taking and selling drugs.
Enzo said he was tempted by his offer, but sensed it was a trap, so he ran home and told his father who called the police and moved this particular man on, but there are many others.
I was shocked as he also told me of how many of his friends have disappeared. Some comitted suicide, others just disappear. Tragically, often nobody is aware, as the parents often don't report the disappearance as they have already given up on them. They are dead to them. It's tragic.
So I asked Enzo how he managed to stay "clean". He has a wife and child and is studying to become a nursery teacher.
He told me that his grandmother had a great effect on him. She died a few years ago, but she brought him up in the Christian faith, taught him how to live and guided him. She warned him to steer away from drugs, drink etc. He loved her very much, so took her advice and said "I just have to do as she says" – it was as simple as that.
In the Wichí culture there is a huge respect for the older generation, and they can truly help their children and grandchildren. They can influence for good. This reminds us that one of our roles here is to continue to encourage parents and grandparents to take seriously their responsibility and to realise just how significant their guidance, words and prayers are!
Enzo and his family have left now to return to studies and life in Sausalito.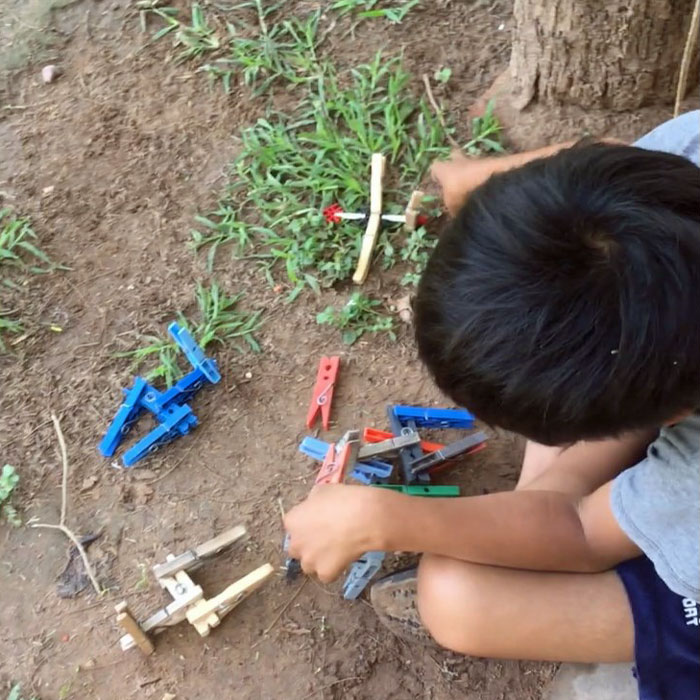 I will rather miss Leo, who being an only child has gravitated to our home.
He seemed a very intelligent child, had a great sense of humour, and played for hours quite happily on his own or at times accompanied. I would marvel at his creativity with clothes pegs. They became many things but he loved to imagine Star Wars planes, ready for battle and saving the world.
Who will keep these dear children and young people safe, who will save their world?
---
Related posts