Lockdown opening homes to Jesus in Manila
The pandemic and resulting lockdown have forced people all over the world to rethink how we do so many things – from school and work to the weekly food shop, keeping up with friends and more. In the Philippines, the team behind Jigsaw Kids Ministries were forced to reimagine their ministry, with surprising results.
Mission partners Kate and Tim Lee, together with members of a local church, founded Jigsaw Kids Ministries back in 2003 to share God's love with vulnerable children in Manila. Former local partner Lendehl Sallidao was also involved with Jigsaw for six years before going on to serve with the Episcopal Diocese of Central Philippines.
Over the years Jigsaw has grown into a child, youth and family development organisation working with over 1,000 children a week in four deprived areas of Manila. These days, Kate and Tim support Jigsaw from Malaysia, helping it to grow into an independent, sustainable Filipino organisation.
Closed down by lockdown
Early last year, lockdown forced some of Jigsaw Ministries' core activities to be put on hold. Their kids' clubs, where hundreds of children could come and play, hear Bible stories and learn to pray together in communities around Manila, had to stop for now.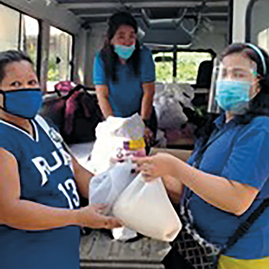 Harsh lockdown impacted thousands of the poorest children and their families, resulting in malnutrition and near-starvation for many. In this initial phase of the pandemic, Jigsaw felt called to focus on emergency response. From March to June, God provided funds and opened door after door for Jigsaw to purchase groceries and pack thousands of life-saving food parcels for more than 1,500 of the poorest families in Manila. These families were so grateful – community officials reported dancing and singing as food packs were distributed! Jigsaw was also able to hand out hygiene kits and baby formula and offer health support, hospital transportation and more.
In June, COVID-19 numbers in the Philippines started to rise. Jigsaw wanted to do something for local kids, but with so many restrictions still in place, what could they do? They couldn't reopen their kids' clubs just yet. Jigsaw felt called to completely reimagine their community ministries and support services to continue to serve the 10 urban communities they are committed to.
A new vision
In prayer, the Jigsaw team sought a new vision from God for the ministry, keeping their eye on Jigsaw's five main goals: community, creativity, boundaries, significance and security. "God graciously led us in his power to develop a ministry that developed these goals in ways we could never imagine," says Tim.
God led the team on an amazing journey to develop what they call Jigsaw at Home, individual activity packs which could be delivered to people's homes. Alongside meal packs for children, soon the team were putting together weekly Bible, education and craft packs, mums' sewing ministry bags, home therapy packs for children in their disabilities programme and more besides.
The key to whole families
Now, more than 1,500 children, young people and families have hope as they wait eagerly for their Jigsaw at Home packs. Before lockdown hit, children had been coming to Jigsaw's clubs and learning about Jesus on Jigsaw's turf. Through the lockdown-inspired Jigsaw at Home packs, Jigsaw is now coming to them and bringing Jesus into hundreds of the most needy, vulnerable homes in the city. Mums are using the sewing ministry bags to teach their children to sew, parents and grandparents are sitting with their children and reading Bible stories together, and whole households are using Jigsaw's at Home packs to do prayer times together.
Some of the families engaging with these packs are people Jigsaw staff have been trying to connect meaningfully with for 17 years. The team couldn't have imagined how God would move during this time. They are in wonder at how God has used lockdown to allow Jigsaw to minister to people's physical, mental, social and spiritual needs and bring the Scriptures right into the heart of so many homes. The delivery of these packs by the Jigsaw staff has been a ministry in itself, with households grateful to spend a few minutes with someone who will offer a smile and listen to them, and even offer help to other individuals in need by referring them to Jigsaw's support services. Jigsaw's philosophy, "all are welcome", is lived out each week as more households request assistance and are welcomed into the fold.
The Jigsaw team hope they will be able to welcome kids back to their kids' clubs in June, and plan to continue and develop their Jigsaw at Home initiative in the meantime. "We praise God for the faith, hope, purpose, well-being and love that is growing despite the lockdown," says Tim.
Related stories