A school for peace
To study war no more is the fervent hope of people in Sudan. A new primary school is teaching pupils from a variety of backgrounds the way of peace.
"Peace is the wish of everyone in Kadugli," says Hassan James, assistant bishop of the Diocese of Kadugli and CMS local partner.
Yet from where Bishop Hassan stands, in the Nuba Mountains, South Kordofan state, Sudan, peace has often been painfully elusive. The area was in the crosshairs of a violent civil war for decades and has also suffered from recurrent tribal violence: cattle theft, intimidation, displacement and murder.
Against this volatile backdrop, and despite the restraints of the COVID-19 pandemic, a symbol of hope for both the present and the future has risen and flourished – the Peace Episcopal Primary School, which is supported by the diocese.
"We started the school as the society needed more options for [affordable] children's education… especially orphans, poor families and Christian children," said Bishop Hassan. "We therefore came up with the idea and shared it with our friends in the country as well as across the world."
He noted that it's called The Peace School because, "We live in a war zone and so we need peace, and we must teach the children about peace…."
After almost a year of construction work, the doors to the Peace School opened in October 2019. Though conceived as a Christian school, the strong reputation for quality has garnered pupils from different tribes and religions and some of the teachers are Muslim. More than 480 children currently attend the school, ranging from ages 6 to 15. A separate kindergarten space has also been built to accommodate 80 children.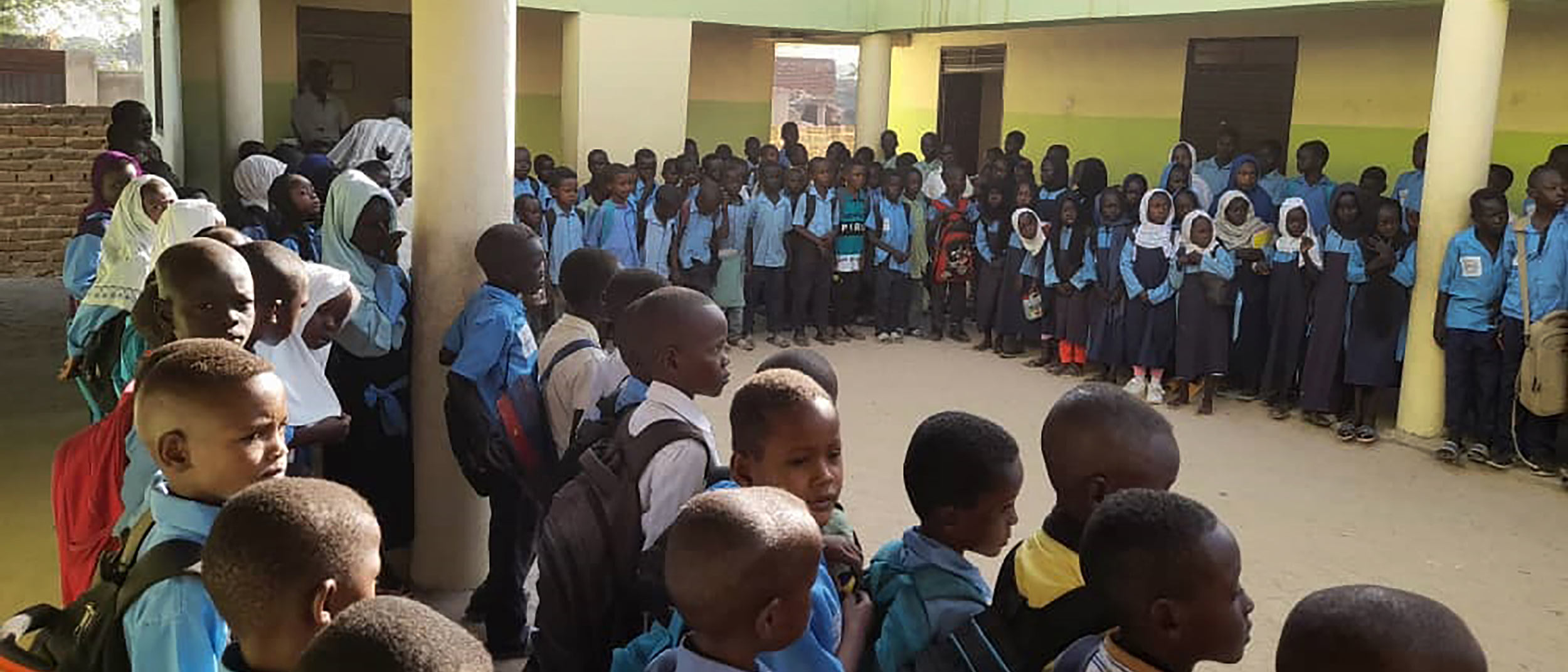 "We live in a war zone and so we need peace, and we must teach the children about peace…"
"The students live in peace and love even if they may differ in faith," said Bishop Hassan, who was born into a Muslim family and turned to Jesus at age 11 while living in Khartoum.
In his time as suffragan bishop, he has worked hard to promote peaceful relationships between the Christian and Muslim communities. More than 90 per cent of the population of Sudan is Muslim. Bishop Hassan has been presented with multiple opportunities to leave the region and minister elsewhere in the world, yet he feels called to remain and be a voice for peace. He regularly speaks on the need for peace via local radio and often runs into people who have heard him and say things to him like: "Thank you, this is the need of the community." He has also advocated for peace and reconciliation efforts with local authorities.
He remembers that during a visit to the Nuba Mountains in 2017, Archbishop of Canterbury Justin Welby offered a prayer "that no child will live in war, but learn things such as peace, humility and love". The Peace School is a brave step towards that vision.
Related posts