Leaders keep learning in Argentina
The urgent need for more trained leaders in the Christian communities across northern Argentina is being met by a cross-cultural collective
Christians in northern Argentina stand at a crossroads. Indigenous Amerindians have felt their traditional culture destabilised as deforestation continues. Their young people can access more and more of contemporary culture through their mobile phones, yet many of its benefits seem out of reach.
Many young people feel a lack of hope for the future, resulting in alcohol problems and disturbing suicide rates.
So a key task for leaders, explains mission partner Nick Drayson, Primate of the Anglican Province of South America and Bishop of Northern Argentina, is to help their people go deeper into the Word of God, to be excited and encouraged by what they find there as they engage with the hard-hitting realities of day-to-day life.
Thanks in part to CMS supporters, the urgent need to train and equip many more church leaders is being met by a cross-cultural collective.
Journeys to leadership
A team of Wichi leaders, mission partners and Criollos (Argentinians of European descent) lead a four- to five-year programme of training for those preparing for ordained ministry. The trainees are already active in their churches, helping to run services, women's groups or discipleship courses, and some are lay leaders of their congregations as there is no pastor in their church.
Many have grown up being part of the church, but their journeys to leadership have varied.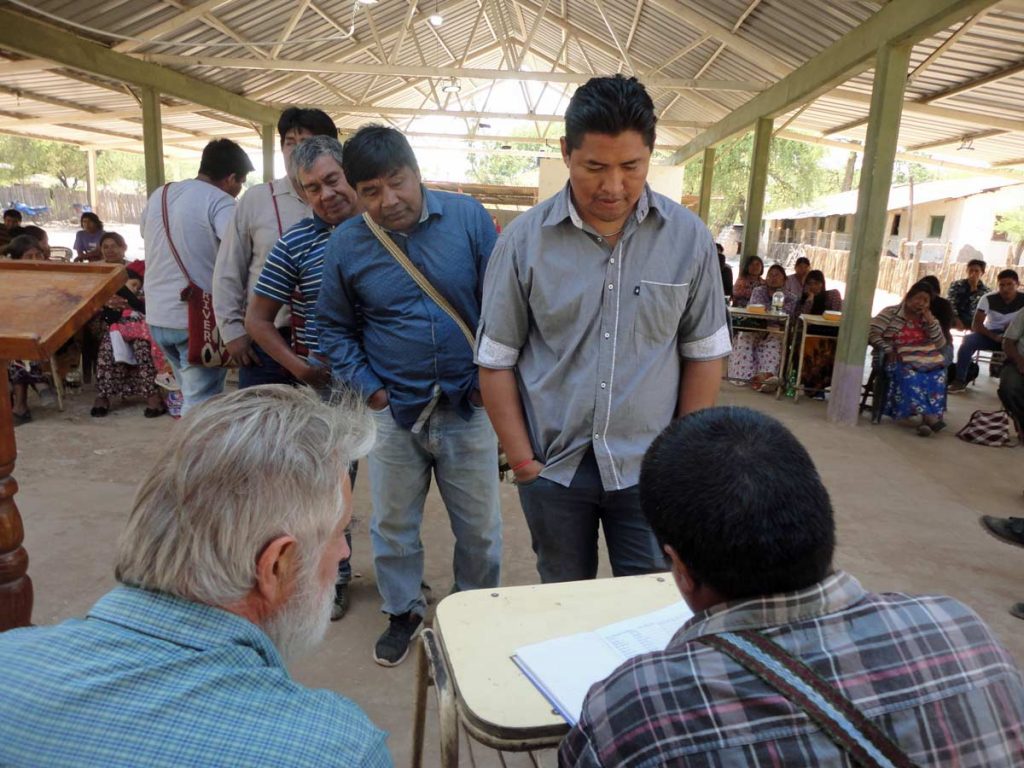 One shared his testimony of going far from the Lord, and far from home, and becoming addicted to alcohol. At his lowest point he stumbled into a church and sensed the presence of Jesus calling him to repent – and from that point he has not drunk alcohol again. He returned to his village and became an active church member before training for ministry.
Pandemic pause
Inevitably, as with regular discipleship training and baptism or confirmation classes, running leadership training during the Covid-19 pandemic has been very difficult. Border closures and isolation rules meant people could not travel for training, and here, it's not a case of simply transferring training online. Too many people lack the necessary technology or even access to a sufficient mobile signal.
Finally, in late 2021, the trainers were able to run a session that had been planned for July 2020. Almost 100 students signed up from 23 congregations, most between 30 and 50 years old, and a third were women. Despite the gap between sessions, 31 (out of 41) students invited after completing three previous years of training were able to continue, and are now half way through their formal training. Other trainees had completed two years of training already.
The trainers work hard to balance three areas of emphasis – character, Bible knowledge and ministerial experience. Mentoring from pastors in the students' own contexts provides vital reinforcement for their learning.
In another encouraging development, some local churches have arranged their own training workshops. Mission associate Chris Wallis reported, "I participated in a workshop organised by a local church in Alto de la Sierra, covering praying for the sick and the history of the Anglican Church. Members of other Anglican churches in the area also attended. In Potrillo a church recently led sessions on leading a service and lay leaders."
Opportunities out of limits
During the pandemic, lockdowns in the Chaco area of northern Argentina have been strict, particularly in Formosa province, home to assistant bishop Crisanto Rojas. With the help of his son, Crisanto was able to get a computer with internet, and he took part in Zoom meetings with other bishops and with local committees.
"It has been a hard year," says Bishop Crisanto, "with a number of older colleagues dying, and conflict between churches that want to continue meeting and others that want to obey the rules. Yet it has been encouraging to see how some younger leaders have made good use of radio and WhatsApp to communicate with more isolated churches and leaders."
Assistant bishop Mateo Alto lives in an isolated area, and has not able to connect with leaders online or by phone very much. Yet there have been opportunities, he explains: "The lack of meetings due to the pandemic has allowed me to pass lots of time talking to the younger leaders about their responsibilities and what it means to lead God's church."
More on this story