Red light

redemption
How one Thai woman started following Jesus and now helps others at the edges of society find new dignity and freedom
Nobody wants to work in a red-light district. But far too many women feel they have no other choice. Like Chinda in Thailand.
Trapped in an abusive marriage for several years, one day Chinda finally found the courage to escape, for the sake of her two children. But as a single mother, she could barely afford essentials like her son's medication or her daughter's school fees.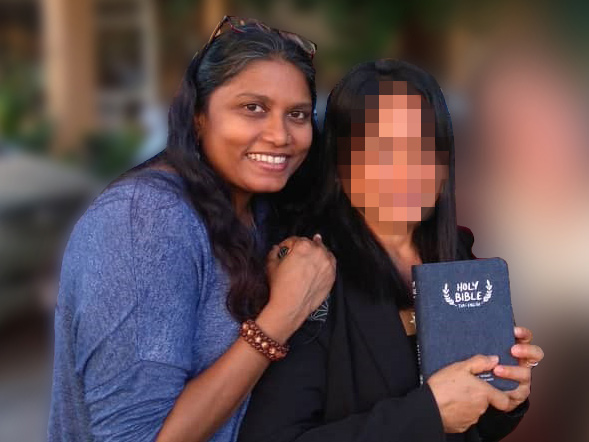 Chinda searched and searched for a job that would provide enough money for her family, to no avail. Finally, seeing no other choice, one day she resorted to the unthinkable.
It's a far-too-common story. But thanks to God and to generous CMS supporters, that's not where this one ends.
A surprise meeting
"Hi. Want to play a game of pool?" Chinda heard the question, but didn't realise the woman who asked it was speaking to her. She'd been sitting in the corner of a pub, looking down at the floor, lost in her own thoughts. Meeting the woman's gaze, Chinda thought she seemed friendly enough, plus she was bored. "Sure, why not?"
As they set up the table, the woman introduced herself: "I'm Helen."
They played a few rounds, chatting a bit in between turns. Chinda figured Helen must know what she was doing in this pub – it was pretty well known and there were other sex workers hanging about, some outside, some inside. But Helen didn't seem to mind. She spoke to Chinda gently, naturally, as if she saw beyond the surface of Chinda's work. When Helen suggested they meet up again sometime, Chinda agreed.
A growing friendship
Chinda and Helen began meeting regularly for coffee. Chinda learned that Helen was a follower of Jesus and that it wasn't out of the ordinary for her to visit pubs, bars or massage parlours and strike up conversations with red-light workers. She said she thought Jesus would do the same thing. "You know," she said one day, "Jesus loves you too – and this is not the life he wants for you – or anyone." If Chinda wanted, Helen could help her find a way out of this kind of work.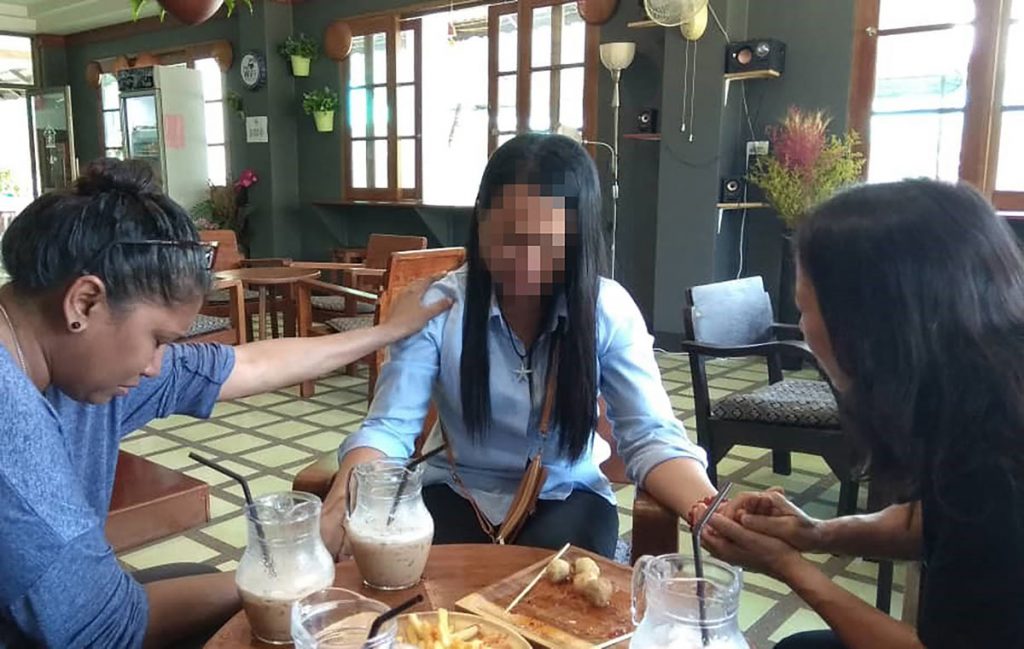 Chinda was deeply sceptical that Helen could help her and even more doubtful that Jesus could love her. But she kept getting together with Helen, who eventually introduced her to other women who had left the sex industry, learned new skills and found work that didn't make them feel depressed or ashamed. It was tough but they'd done it.
A better path
Gradually, with Helen at her side, Chinda decided she wanted to chart a better path for herself and her children. She finished her education, got her driver's licence and enrolled in some skills training courses. For the first time in ages, she could see new possibilities ahead.
She also started talking to Jesus more and more often and one day, surrounded by Helen and other people at the centre where Helen works – new friends who'd prayed with her, cared for her and shown her she was worth far more than she'd dared believe – Chinda decided to follow Jesus. There were tears, and smiles and hugs. Today Chinda continues to grow in her faith and she has found new confidence in herself.
And Chinda has found a new job too. She now works with Helen, distributing food and starting conversations with women who just need someone to look at them, talk to them like people not prostitutes – and let them know that they have a part to play in God's story too.
Update:

pub is now place of prayer
If you were to go to that pub in the red light zone where Chinda first met Helen, you'd find it much changed. The pub manager was so astonished by the change she saw in Chinda, she asked Helen how she could help more local women. There is now a weekly women's prayer meeting at the pub, open anyone searching for a glimmer of hope.
Every day, hundreds of people rush past women like Chinda without giving her a look or a thought. Isn't it remarkable what a difference some time, attention and kindness can make? Jesus intentionally spent time with women like Chinda and thankfully, CMS local partner Helen Avadiar followed his example and did likewise.
Through your prayerful and financial support of CMS, you have gone to the edges with Helen and helped Chinda discover she could have a new life in Jesus. And she's not keeping this good news to herself.
Related stories